---
Features of Horizontal Products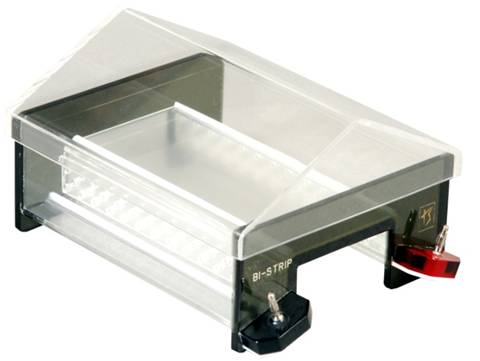 For a detailed selection guide click here
Download the full horizontal apparatus catalog

pdf
Leak Proof

● Buffer does not leak from plastic joints as sticking is done with special glues. ● Crazing of plastic is minimized as high quality plastic tolerates short exposure to cleaning reagents

Rugged

● Electrodes do not break as they are thick and platinum is > 99.9% pure. ● No electrolytic corrosion of male connector as base is resin filled. ● Metal screws do not break with extensive usage.

Error Minimization

● Samples do not migrate in wrong direction due to color coding and uni-directional migration feature.



Sensitivity and Resolution

● Improved band resolution as stips/ slide can be run at cool temperatures

Economical

● Saves reagent and operator cost as leakage and errors are prevented. ● Run larger number of samples per strip. ● Can be run at higher voltages for faster separations.

Convenient

● Lid can be removed while the run is on to view the strip/ gel ● Unique locking system for strip to prevent movement while running.
TechnoSource range of CA strip and slide electrophoresis apparatus are manufactured in India.